In the current market climate, also known as the "crypto winter", the web3 ecosystem continues to grow, and there is a need to develop more valuable DApps. Bunzz (https://bunzz.dev), a web3 development infrastructure, has entered into a partnership with AKINDO (https://akindo.io/), a web3 hackathon platform. AKINDO will use Bunzz's "Smart Contract Hub" to enable participants to easily publish smart contracts they have developed at hackathons organized by AKINDO.
What is Bunzz's "Smart Contract Hub"?
Smart Contract Hub" is one of the key features of Bunzz, a repository service that allows web3 engineers to publish their smart contracts to the public and deploy them easily to other engineers and the authors themselves. Similar mechanisms for code sharing and version control are available from other companies, but Bunzz, specializing in blockchain, can deploy contracts to any EVM-compatible chain via a GUI.
In the future, the company plans to implement tokenomics, which will generate incentives for module developers, with the aim of achieving "Contract Staking".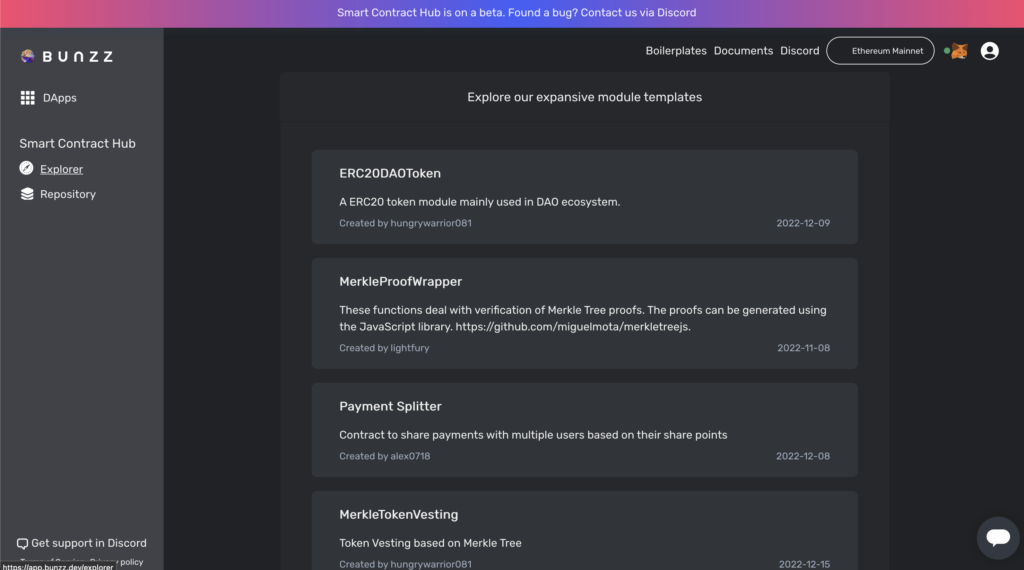 What is AKINDO, the web3 hackathon platform?
AKINDO is a web3 hackathon platform that solves the problem of community formation for decentralized web3 projects through hackathons.
trevary, Inc. provides AKINDO, a platform for building a web3 ecosystem by connecting web3 projects and developer communities around the world.
First initiative to support participants of the Fracton Hackathon
As a first initiative of this partnership, we will start supporting participants of the Fracton Hackathon Vol. 1, where a demo day was held on Monday, February 26, 2023, by announcing how to use the Smart Contract Hub and other information.
The uploaded contracts can be viewed and deployed by anyone from the public repository page below. Please take advantage of this service.
https://app.bunzz.dev/explorer