Pre-Registration Now Open! Try it first
Pre-register here (free) → https://blog.bunzz.dev/decipher-pre-launch-page/
Decipher will be launched shortly in July 2023. To remain informed about the launch and to be among the first users to try this new tool click on the link above to register.
We will be sending an invitation to the closed beta version by lottery from the registered accounts.
What is DeCipher?
DeCipher is a service that can generate highly accurate specifications documents for blockchain developers using smart contracts and ABI on the blockchain as input sources, fine-tuned GPT prompts for contract analysis through a proprietary processing system.
Attempting to generate documentation with regular GPT will not provide reliable analysis results, as most required information will be missing or incorrect answers will be returned.
On the other hand, DeCipher, which specializes in contract's analysis, has achieved the accuracy required by web3 developers. Although we do not guarantee 100% accuracy, we have received evaluations from early testers such that Decipher offers high "accuracy and usefulness" and "preciseness that cannot be expected from GPT alone".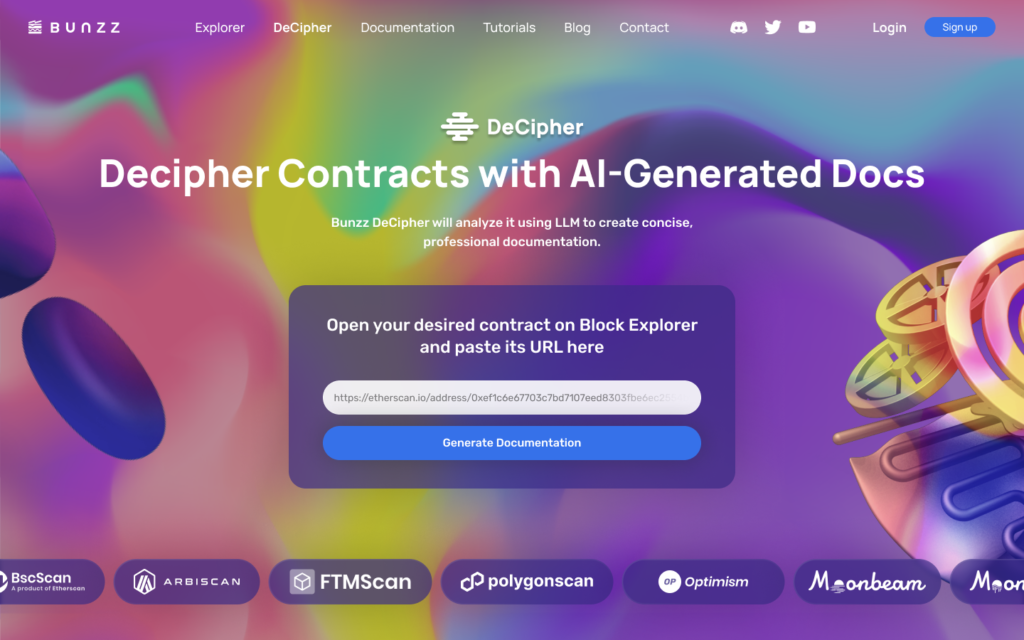 Sample of a document generated by DeCipher
Decipher can generate detailed documentation out of any block explorer's URL. Let's see an example with The Doodles contract.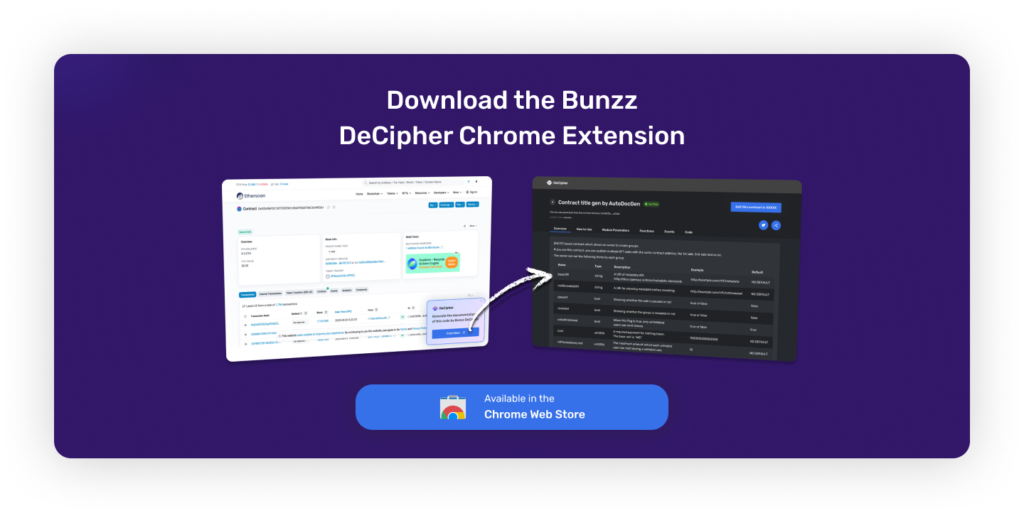 Extra features: get supplementary information by chat, code editing and deployment by CLI
DeCipher not only generates documents, but also has the following features.
Ask questions in chat format about the generated results
Edit and deploy the source code of the analyzed smart contract
With these suit of features, we have realized a 'development tool specialized in fork development of existing contracts' that can obtain documents from all contracts on-chain, is able to understand the content, and able to edit the code for the DApp you want to develop and deploy to all EVM-compatible chains.

What DApp development problems does DeCipher solve?
Many DApps are developed with reference to existing smart contracts deployed on the blockchain, but since there are no clear specifications documents on the contracts on-chain, it was necessary to read and understand the source code for a long time. We developed DeCipher as a solution to this downside for web3 developers.
DeCipher's launch comprises one of the features of 'Bunzz v2'
Bunzz is a development platform for DApps (decentralized applications using blockchain). By providing frequently used contracts that have been modularized, the development difficulty dramatically decreases.
During the last year, over 12,000 web3 developers have used it, and the number of DApp projects deployed on the blockchain has exceeded 4,500 with over 200 smart contracts modules being available to use as templates.
Little by little getting closer to our goal of becoming the 'web3 version of github".
You can explore about Bunzz here: https://bunzz.dev/
This time, Bunzz plans to launch its first major update, 'v2', in late July. And DeCipher is a key feature of v2.
We have opened pre-registration for DeCipher, remember to pre-register here (free) →